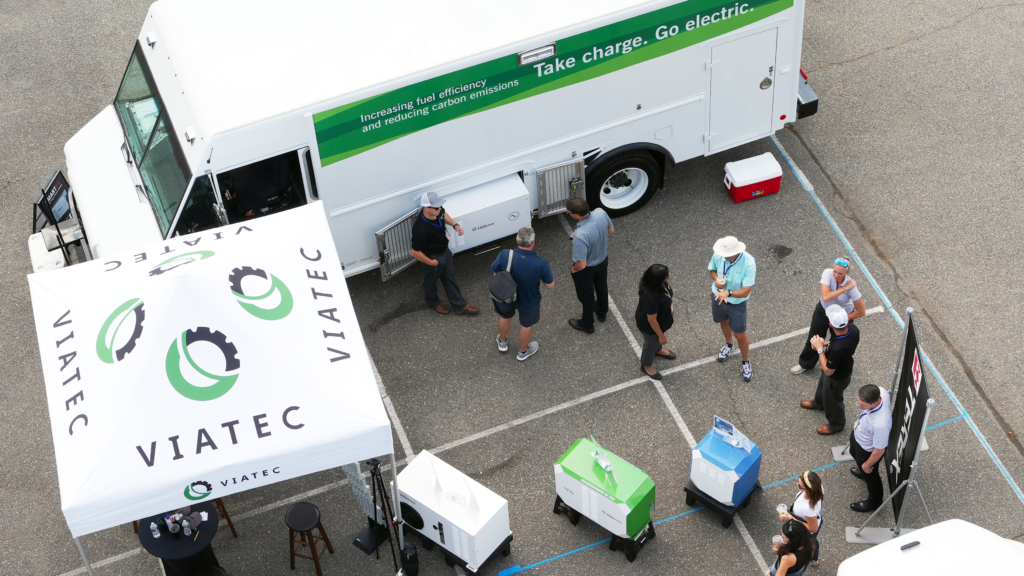 This past June, Viatec was thrilled to once again be a part of EUFMC—the Electric Utility Fleet Managers Conference! 2023 marked 70 years since its first meeting and our first year participating in the drive-through utility equipment demonstration. EUFMC is unique in so many ways, it is an opportunity to quite literally see the future taking shape and a vital yearly conflux for our industry. In light of that, we wanted to take a moment to discuss what makes it so special, why it's important and how Viatec has been involved in some exciting benchmarks at the event over the last two years!
A Brief History
As the conference's website states: "It all began in 1953. The desire of utility fleet managers for a convention of their own, one that would address the specific needs of their operations, became the mission and vision of Joseph B. Baker, the founder of Baker Equipment Engineering Company, and Jean Y. Ray, the fleet manager at Virginia Electric Power Company (now part of Dominion Power), who hosted the first "Public Utility Fleet Managers Conference" at the Tides Inn in Irvington, Virginia. While the conference did not officially change its name to the Electric Utility Fleet Managers Conference until 1964, EUFMC was born."
EUFMC Today: The Industry's Premier Event
70 years after that first gathering, EUFMC is a one-of-a-kind event. It is attended annually by representatives from more than 100 North American manufacturers and suppliers of vehicles, equipment, products and services for utility fleet operations, and features both a drive-through event and an equipment show with more than 60 displays.
Each year, the event is planned, hosted, managed and executed by representatives drawn from the nation's premier utilities' fleet-manager community. Responsibilities rotate regularly throughout the four-day event, allowing multiple fleets to be highlighted and showcased. Suppliers participate by invitation only, as the event team carefully plans out an agenda to include technologies and solutions that they feel would be of the highest interest and benefit to their industry peers. It's a unique and invaluable opportunity for fleets to meet and interact with each other. As it is for their technology partners as well – who can receive instant and insightful feedback, which they can utilize to improve their own products and services.
What Sets The EUFMC Apart
The EUFMC organizers provide all the partner organizations opportunities to showcase their products and technologies via the Drive-Through and open Exhibit event. While the drive-through offers an exciting look at the latest technologies in action, the exhibit allows the fleet managers to evaluate the various products and technologies up-close as well as see product demos being presented. For all the OEMs, upfitters, technology and service providers, it is a unique opportunity to understand customer needs and the solutions that exist in the industry. And in addition, explore and forge key partnerships between themselves – leading to alliances that ultimately benefit and serve the utilities' fleets.
The exhibit is followed by two days of panel discussions, speaker sessions and roundtable discussions consisting of fleet representatives sharing their experiences on a wide variety of topical and relevant subjects. During these discussions, utility representatives are also given the chance to have their questions addressed. For all the fleets participating and for their supplier partners, these sessions offer opportunities to hear first-hand how their peers in the industry tackle both their operational as well as strategic plans – leading to discussions that make up a crucial part of advancing the sophistication and effectiveness of industry technology and solutions.
Viatec's Mark on EUFMC
Last year, Viatec was privileged to work with our partners Navistar and Terex Utilities to be a part of the first fully operational, all-EV bucket truck – which was launched at the EUFMC show. At the 2023 event, it was Viatec's honor to showcase all our products and technologies as a part of the Drive-Through event. In addition to our own showcase, our products were featured on four of our OEM partners' vehicles as well. The wide and varied displays of Viatec's solutions on partner platforms reinforced our position as a leader in electric work solutions throughout the show.
As supplier representatives who are veterans of many trade expositions and exhibits, we find the EUFMC stands alone. The event offers opportunities to meet with, learn from and build relationships with our customers and industry-leading partners. We are privileged to be part of of it and look forward to continuing to contribute to its success!
Discover Viatec's ePTO Lineup
Explore the ePTO products we showcased at this year's event. Visit our product page.
Get a Glimpse of EUFMC '24
Read the full story of the conference and get a preview of EUFMC '24. Go to the event website.