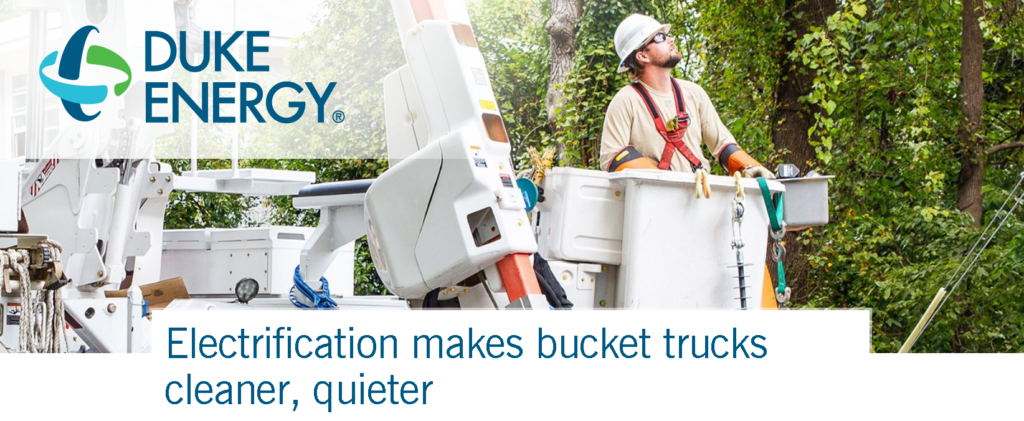 Read how Duke Energy is electrifying its fleet of utility trucks
Duke Energy is one of the largest utility companies in the U.S. and one of a kind for having such a large fleet of utility trucks, so when we were asked earlier in the year to run a pilot testing period with SmartPTO on one of their bucket trucks, we jumped at the opportunity. After months of collecting data which later culminated into a Pilot Report, on October 2, 2019 Duke Energy published this article outlining its purchase of 24 units, stating in the article,
"The pilot has proven so successful, Duke Energy will soon expand to 24 bucket trucks outfitted with SmartPTOs and is considering making them standard on all new bucket trucks."

"Compared to other plug-in electrics, this unit was quieter, more responsive and much simpler in design," said Mike Allison, Duke Energy's director of Fleet Design and Technical Services. "When we saw that, we thought this is a viable path to electrifying all of our bucket truck fleet."
Our relationship with Duke Energy remains a priority. We hope to see the standardization of SmartPTO spread throughout the market from the shoulders of the utility industry giant, cementing them into history as a proponent for the rise of clean technology throughout the utility fleet world.
Viatec is also in the heart of Duke Energy's Carolinas service area.

"That's an economic development opportunity, and that's a big part of our EV initiatives," said Lang Reynolds, Duke Energy's director of Electric Transportation. "We want to make sure our service areas are leading in this industry."