The industry's first and only production all-electric bucket truck took the stage at the 68th Electric Utilities Fleet Managers' Conference (EUFMC). During the critical 'Drive-through' portion of the event, participating manufacturers present their products to the conference attendees, driving new configurations on the latest chassis and showing off official releases of their recent tech. Suppliers use the Drive-through as an opportunity to make a splash in the industry and hope to create and leave an impression in the minds of the fleet managers that attend the event annually.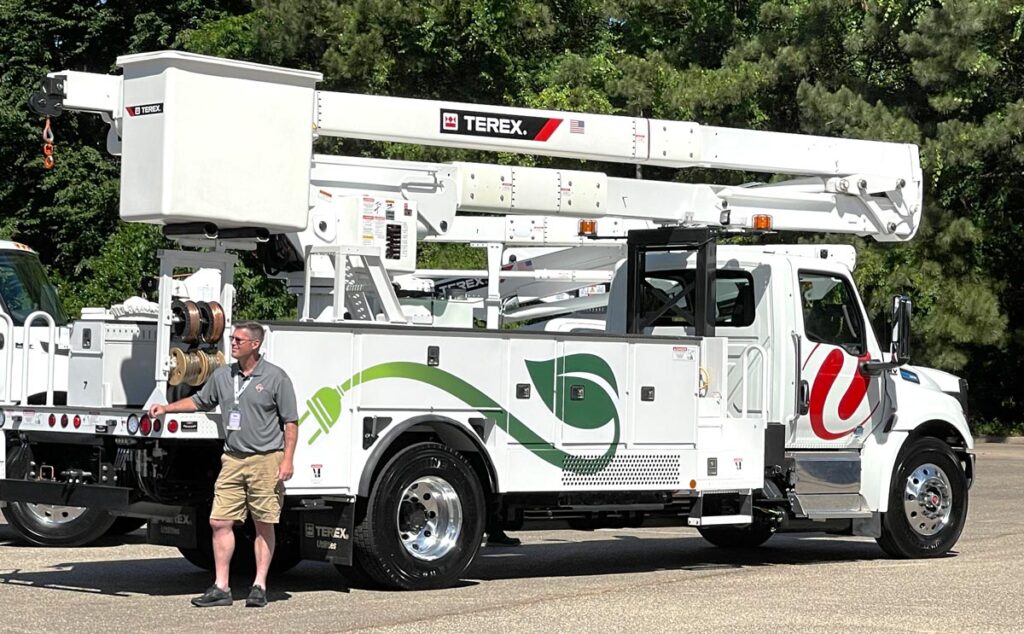 This year the vision of a Production Electric Bucket Truck was realized at EUFMC and it completely stole the show!
Its release was two years earlier than the most optimistic projections. "By combining SmartPTO technology with the International electric chassis, Terex Utilities was able to bring this bucket truck solution to the electric utilities two years ahead of industry projections," said Joe Caywood, Director of Marketing for Terex Utilities.
Viatec collaborated with Terex and Navistar / International Trucks – two of the most respected industry stalwarts to attend the event – to make this debut possible at EUFMC. Together, we are proud to announce the joint release of this evolutionary solution. This is a milestone on the road to broad availability of electric vocational vehicles across and beyond the utilities industry worldwide.
A project of this magnitude required the seamless collaboration between the three critical components of the All-Electric Bucket Truck – namely, an electric chassis, an aerial upfit, and the ePTO to power a full day's work.
International Truck's eMV Series Chassis from Navistar
Navistar International's eMV Series electric chassis platform has been specifically designed for fleet duties with a 210kWh battery pack and 135-mile range. It is the new gold standard 33,000 GVW all electric platform for vocational vehicles.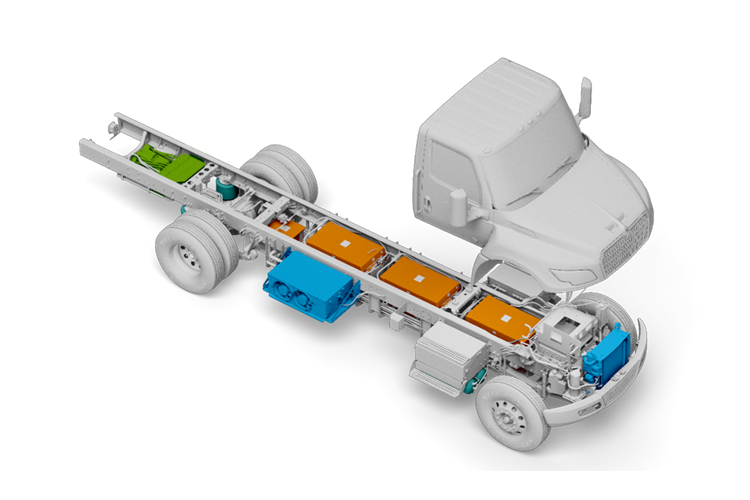 Terex Utilities 55ft Aerial Upfit
The aerial equipment on this configuration is a mounted Terex Optima 55 ft aerial. It is a 60 ft working height aerial commonly used for electric distribution line work. Terex has long been trusted as one of the industry's most utilized upfitters of vocational vehicles worldwide. This upfit comes fully loaded with everything operators need for their worksite.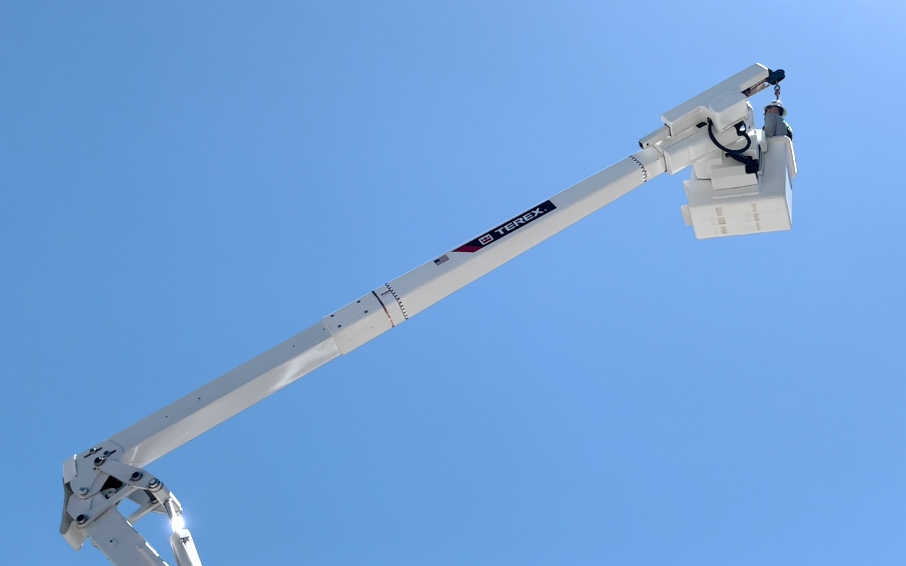 SmartPTO for Worksite Energy Management
On an EV (Electric Vehicle) chassis, exhausting vehicle range for the sake of powering worksite equipment is not ideal. By providing all the power for worksite operation from Viatec's SmartPTO the chassis batteries range is protected. SmartPTO, Viatec's flagship electric PTO product, is part of our series of zero-emission worksite solutions for hydraulic powered applications. It is a fully contained ePTO powered by the Zero Motorcycles' DSR powertrain. Concisely, Viatec's electric PTO powers the work, not the drive.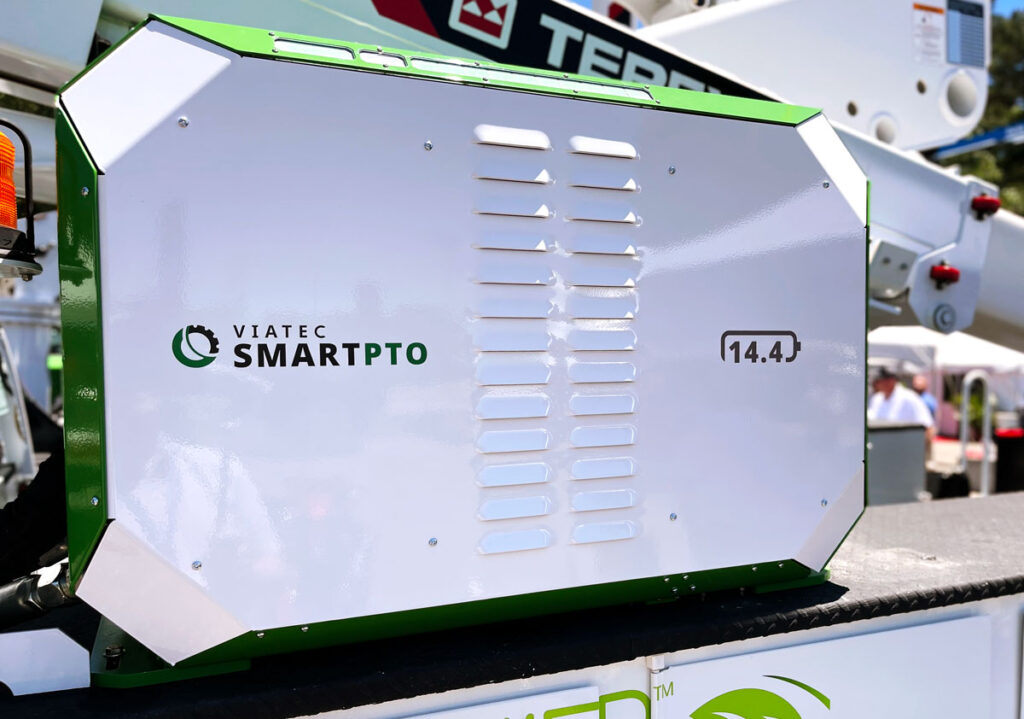 Ready for Work
Thanks to an efficient and successful collaboration between the three market leaders, the industry's first all-electric vocational vehicle for the utility industry (and beyond) is on the market and ready for work – today! We look forward to innovative and discerning fleets all over North America utilizing this technology, and we can only assume that future electric vocational vehicle needs will continue to emerge for a variety of worksite applications. When they do, Viatec is here to power them.