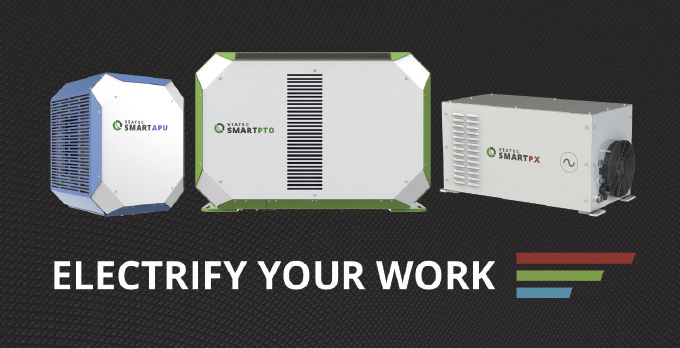 We're proud to announce that Viatec's Smart family of fleet electrification systems has been showcased in Modern Work Truck Solutions. The May issue and their website spotlight our innovative fleet solutions, including SmartPTO, SmartPX, and SmartAPU, highlighting our commitment to providing clean, reliable, and zero-emission power for worksites.
Viatec's Smart family of plug-in electrification systems provides clean power for upfits. SmartPTO, universal ePTO, is ideal for hydraulic applications like bucket trucks and maintaining truck batteries. Quick installation leaves legacy PTO operational and works with conventional and EV chassis. SmartPX is a plug-in electric alternative to gas/diesel generators, producing rotary, pure sine wave power for pumps, welders, and tools requiring 120, 240VAC, and 12VDC. SmartAPU provides power requirements for medium-duty service trucks to run auxiliary equipment. Enclosed systems with simple, parallel installation and telematics reporting set the standard in reliable solutions that power safer, quieter, zero-emissions worksites.

– Modern Work Truck Solutions, May Issue
This recognition underlines our ongoing mission to lead the way in fleet electrification. For more on our feature, check out the May issue of Modern Work Truck Solutions or visit their website.