As the utility industry evolves, Viatec solidifies its standing as a key player, ready to exhibit pioneering products at this year's Utility Expo from September 26-28 at the Kentucky Exposition Center. 
At the heart of Viatec's presence is the completion of the "Smart" Family, a comprehensive range of power solutions designed to eliminate idling for upfits on nearly any vocational vehicle seamlessly. We've released our third and final addition, SmartAPU, providing 12-120V power for medium-duty vehicles. "The 'Smart' Family demonstrates our commitment to innovation, providing systems that make sense financially, operationally, and environmentally. Reliable solutions are fundamental to the future of medium and heavy-duty fleets," says Founder and Chairman, Mark Ferri.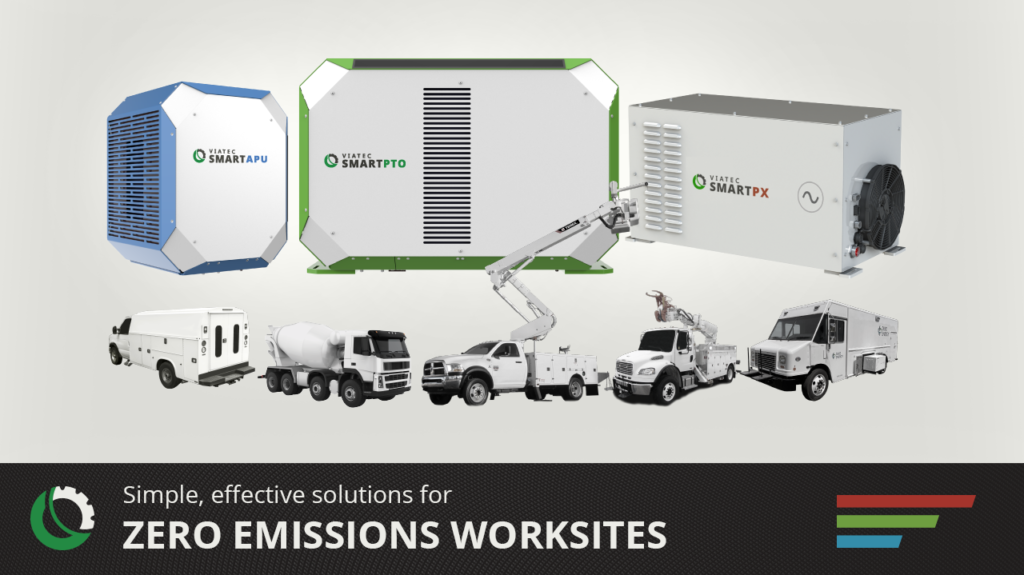 Booth Highlights 
Visitors to Viatec's Booth (#N1521) will get firsthand experience of SmartAPU with a live booth demonstration. Additionally, attendees can get a sneak peek into the future of ePTO, teasing Viatec's latest product, the EV-PTO, a "true ePTO" solution. Designed with the same engineering philosophy as SmartPTO – universal, self-contained, and elegant, EV-PTO will take electric power off EV chassis and seamlessly provide hydraulic power for a wide range of applications, from utility buckets and derricks, to refuse, to wet-line kits on semi tractors. Curious visitors are encouraged to stop by for exclusive insights on each. 
Extended Presence at the Expo
Viatec's collaboration with industry giants amplifies its expo footprint. Terex's Booth (#E1533) boasts a plethora of Viatec's innovations, including:
The SmartPX system, set to revolutionize generators with a clean alternative.
The flagship SmartPTO system, recognized as the industry-standard ePTO.
A display of SmartPTO's versatility, demoed on Terex's new all EV bucket truck.
Interactive SmartPTO demo systems on various Terex upfits.
Furthermore, as attendees approach the Kentucky Expo Center, they'll be greeted by a Terex material handler equipped with SmartPTO.
Reach doesn't end there. SmartPTO is also being featured at Ring Power (#E1021), Stamm/Smyrna (#E1655), and Versalift (#E833), while SmartPX makes its mark at Utilimaster (#E1210).
The utility world is rapidly transforming, and events like the Utility Expo offer a unique lens to witness this change. As Anjali Deodhar, VP of Sales adds, "We're excited to be part of this transformation and equally thrilled to showcase our contributions to the journey."