This year at Work Truck Show 2022, Viatec took it's place in the Productivity and Fuels Pavilion. The green carpet that signifies its show space hosts exhibitors focused on modernizing energy, most with a theme around eco-friendly solutions and initiatives. Almost a buzz word this year, "ePTO" was a point of interest for many attendees and Viatec was here to answer questions as the leading authority in the latest electric power take-off technology.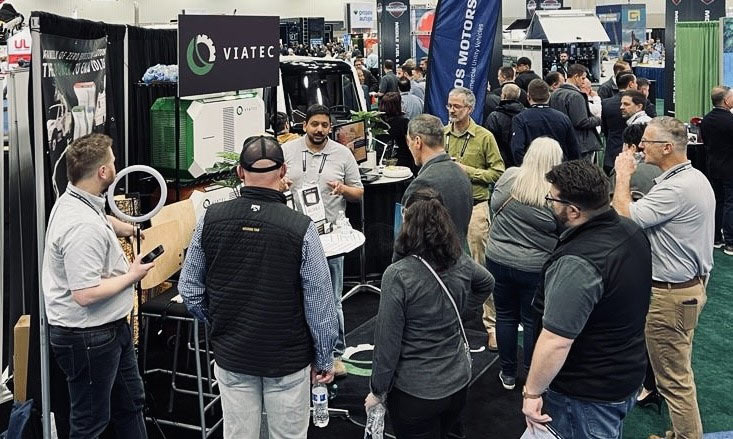 Leading the Way in Electrification
Electric power was the star of the show from electric vehicle chassis displayed centrally to idle mitigation and electric power alternatives across the Indiana Convention Center's showroom floor.
This year proved to be one of the most impactful of Viatec's past four at WTW. With all of the focus around electrification, we were anticipating questions, visitors and general interest from this unique collection of industry leaders. Viatec President and CEO, Mark Ferri said, "The relationships we build and the vision of OEMs, customers and suppliers deepen through the many conversations that Work Truck Show enables. Seldom are so many capable people gathered that can represent the needs and dreams of millions of consumers and this has been our experience every time we attend."
Viatec Team Q&A – Our Perspective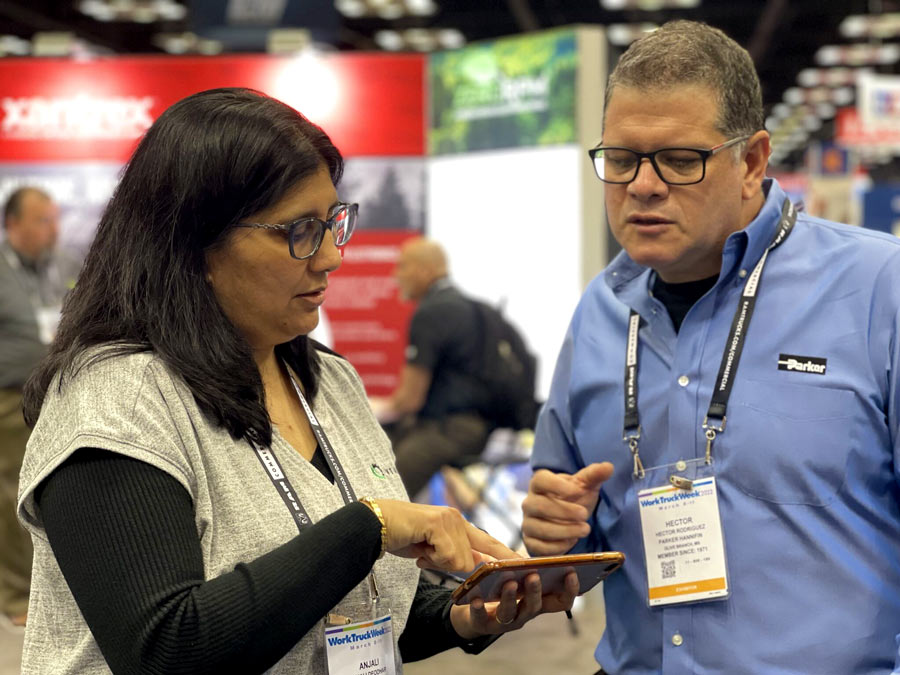 How have exhibitions at WTW changed over the past 4 years?
The Work Truck show has always had their finger on the pulse of all that 'drives and fuels' the work truck industry! And while the themes of sustainability and environmental impact have always been a part of the tapestry of the show, this year, these themes took on the brightest and shiniest hues. Almost all the chassis manufacturers, the upfitters and all related service providers had one or more product displays showing their forays into alternative energy platforms – largely electric. Our presence there was highlighted by our own market offerings and also through displays put on by our partners, showcasing our flagship product SmartPTO.
How do you see Viatec fitting into this event's community of exhibitioners moving forward?
Viatec's raison d'être has been to design solutions that 'Enable Zero-Emission Worksites'. Our current market-ready products – like SmartPTO and SmartPX – have established us as leaders in the field of providing alternative solutions for work trucks. This, given with the new focus in the show around electrification solutions, has put us solidly in the leading quadrant of organizations exhibiting at the show. As many conversations that we had at the show with prospective customers looking to utilize our technology as part of their clean fleet initiatives, we had manufacturers and upfitters reach out to us for potential partnerships in bringing sustainable solutions to market.
What are some of the more exciting opportunities or relationships that have come out of WTW?
We have had the privilege to meet with and talk to several chassis manufacturers, truck body upfitters and several additional service providers who participated in the show. The most exciting opportunities have been the ones that promise collaborations with like-minded industry leaders in this space to deliver the promise of sustainable solutions to our customers.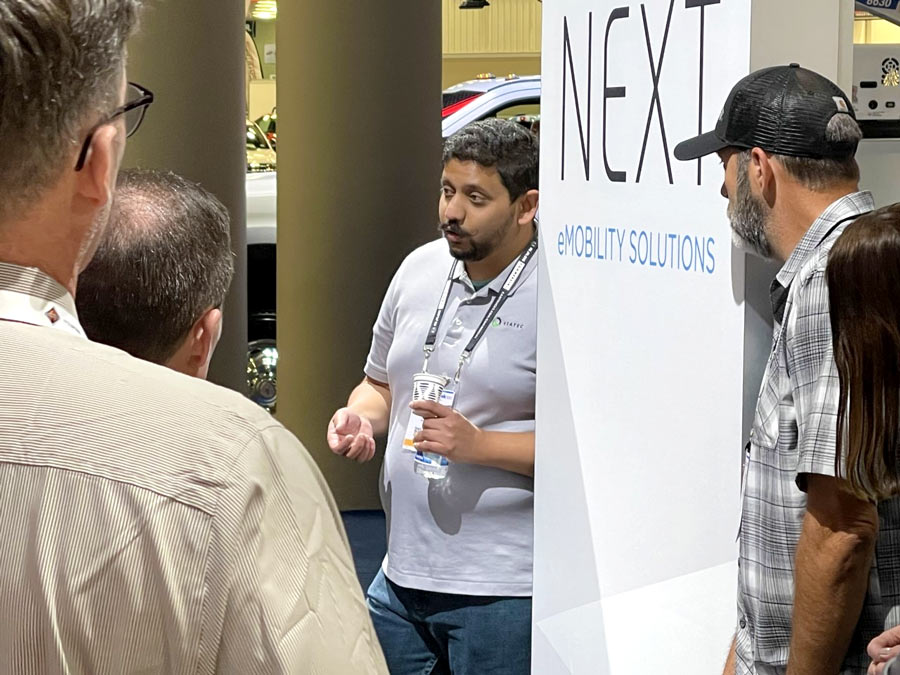 Neeraj Chirmulay
Chief Technology Officer / EVP
How has the new technology at WTW been trending over the last few years?
From what I have seen, there seems to be a marked increase in electrified offerings and solutions. 3-4 years ago, solutions for idling and emissions reduction were few and far from ubiquitous. This year, almost every large exhibitor had either all-electric, or electrified products on display.
Why do you think 'ePTO' has become such a buzz word this year?
With all major truck OEMs now offering all-electric chassis, along with a couple of new all-electric chassis manufacturers, customers of vocational (work) trucks are now seriously considering adopting some of those platforms. Naturally, they are looking for an equivalent to a traditional transmission-mounted PTO to power the upfit/ equipment on these trucks. So people are starting to logically add an "e" prefix to the term PTO, to refer to a power transfer piece in the context of electric chassis. It's important to observe, though, that people are still unable to define what ePTO really means – perhaps that lack of definition is causing it to become a buzz word, as people are actively trying to find a solution, resulting in "ePTO" being brought up in almost every discussion!
It's also important to note, that 'ePTO' had been in use for a while in the bucket truck industry, where it referred to legacy 'hybrid' systems, making today's buzz word a bad word for a while.
Where do you think new technology at WTW is headed in the next 4 or 5 years and how will Viatec continue to make an impact?
The landscape is very dynamic at the moment, with fundamentally new architectures in and around all-electric chassis. I expect more and more equipment manufacturers to display and market solutions for all-electric chassis. Whether these manufacturers choose to make their upfit self-sufficient with its own power unit and energy storage, using Viatec's SmartPTO product for example, or they choose to partner with someone to elegantly transfer power from an all-electric chassis to their equipment, I hope Viatec will be everyone's first thought and choice. I would like for "Viatec" to become synonymous with powering equipment on all-electric work trucks.
Terex Exhibits SmartPTO
Our partner Terex Utilities came out to showcase SmartPTO on a HRX 55 material handler at booth #3119. After our recent partnership with Terex Utilites, they continue to be the loudest voice at the show for our technology. With their adoption of SmartPTO into Terex Hypower, attendees have taken notice of Viatec's impact on this event.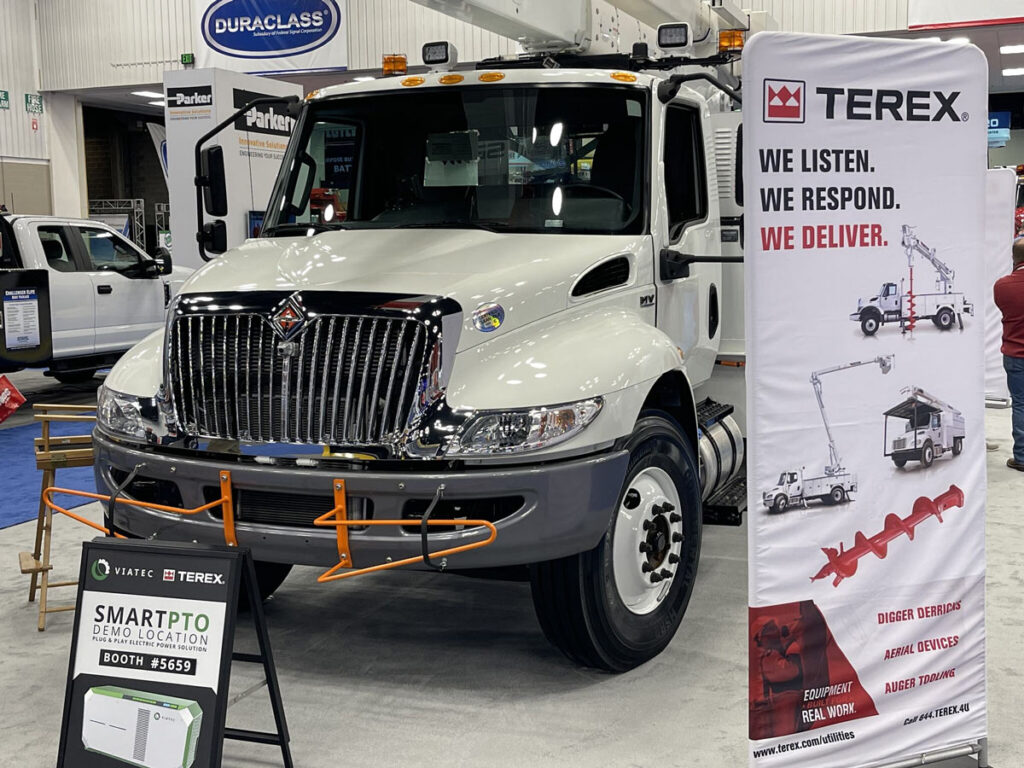 We'll be looking forward to WTW in the future with our partners and friends while we continue to advance the electrification of this industry.
Learn More about the products we showcased at WTW 2022