Experts in fleet strategy and creators of highly customized utility vehicles, Utilimaster is no stranger to the Electric Utilities Fleet Managers Conference (EUFMC). The annual event brought fleet managers the newest configuration for an electric approach to Duke Energy's fleet of step vans.
Used for general purpose, the step vans are not new to Duke's arsenal. However, now these vans run on electric power when operating in their respective worksites. While before a diesel generator would have been utilized to power equipment the vans use day to day, they now come equipped with SmartPX by Viatec instead for zero emissions electric power.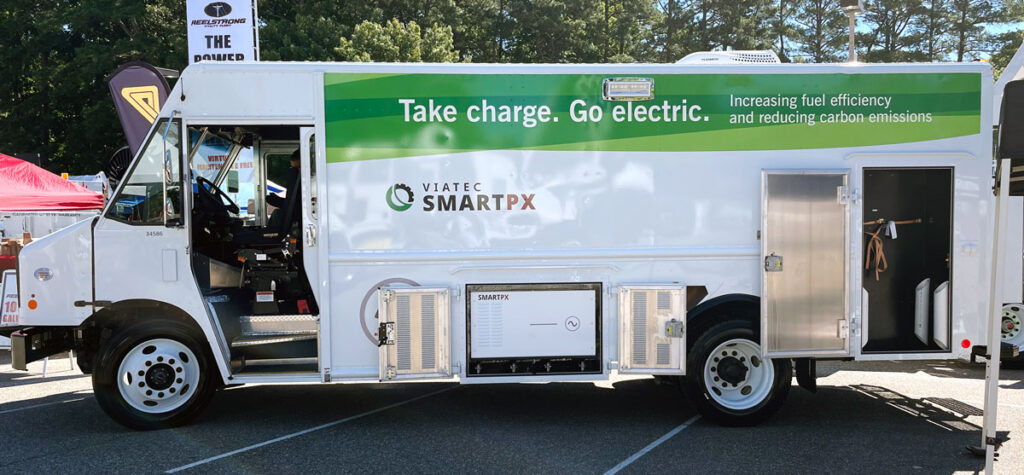 SmartPX, Zero Emissions Alternative to Your Mobile Generator Set
SmartPX is an electric replacement for your mobile generator set. In this case, installed to supply power to an array of tools and equipment. A rooftop HVAC unit for comfort, a 4hp trash pump used to clear water and debris, internal and external outlets for 120v applications, and an external 240v outlet when heavier equipment is being used, a variety of work lighting, and 12v power to maintain vehicle batteries all come ready for work. Supported by the walk-in box lined with stainless steel cabinetry and table space, these vans act as mobile workshops and, in some sense, offices for the operators that use them daily. Aside from various hand tools, larger job-specific equipment, cab comfort, or a trash pump, a phone charger and coffee maker are also some accessories operators need to stay out in the field for an entire workday. All of this powered by the 14.4kWh SmartPX. Standard recharging can happen overnight, with a drop cord plugged into a wall outlet. With the fast-charger option, SmartPX can be recharged using a Level II EV charger in 2.5 hours.
"When Duke Energy approached us with the challenge of electrifying their fleet of step vans it felt like the right fit. After successfully piloting SmartPTO on their bucket trucks and the announcement that it would be adopted fleet-wide, we were eager to tackle a new set of challenges. Through this effort SmartPX was born," said Mark Ferri, President, and CEO of Viatec.
During the drive through segment of the show, Matthew Jarmuz, Client Development Manager at Utilimaster presented a work ready example, saying "SmartPX replaces the need of a generator and allows you to power both your 110v AC, 240v AC with 12k watts of exportable power" and added, "In the field if the battery does go dead we have a backup PTO generator that will start up and power equipment until you get back home."
We are elated to be able to showcase this application at the years largest utility fleet managers event. We hope to see SmartPX being utilized in the future in a variety of applications like news vans, service trucks, telecom vehicles, or any vocational upfits that might require a 7kW or larger generator.